vairamuthu
Vairamuthu, is a profound poet, a masterful lyricist, a versatile Novelist, an enlivening essayist, a spirited social enthusiast, a genius thinker and a Philanthropist whose words and works have empowered the youth to a great extent. He is a prodigy whose ingenious prowess has transformed and set a new trend in the Tamil Literary and Film entertainment arena. He is a recipient of the prestigious Padma Bhushan (2014), Padma Shri (2003), Sahitya Akademi Award (2003) for his impeccable novel "Kallikattu Ithikasam" as well as a winner of National Film Awards for seven times.
Early Life & Education
Vairamuthu was born in the year 1953 in the village called Mettur, Theni district, (erstwhile Madurai district) Tamilnadu. He finished his graduation and post-graduation with a Gold Medal from Pachaiyappa's College, Chennai, Tamilnadu.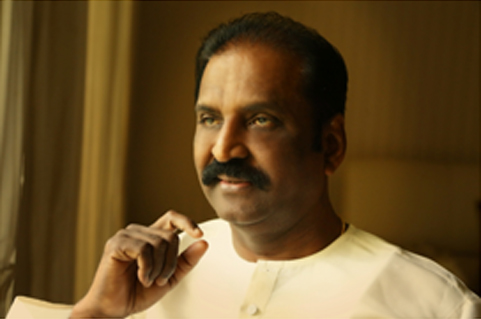 Entry into Literary arena
While working at the Tamil Nadu Official Language Commission, he wrote his first anthology of poems. Soon he entered the glorious field of cinema as a lyricist in 1980 by film director Bharathi Raja in his film 'Nizhalgal' (Shadows) and so far written over 7500 film lyrics. He is the only Indian film lyricist who is honored six times with the Presidential National Award as a Best film Lyricist.
He has penned over 41 books in three decades commencing in the year 1976 with 'Vaikarai Megangal' (Clouds at Dawn) to 'Vairamuthu Sirukathaigal ' (The Short Stories of Vairamuthu) in the year 2015. His contribution to literary world continues with the same level of spiritedness.
Other Languages
An anthology of his poems was translated in English titled 'A drop in search of the ocean' and in Hindi titled 'Bindhu Sindhu Ki Our' in the year 2003.
Besides his poems many other works have also been translated into several languages viz., English, Hindi, Telugu, Kannada, Malayalam, Bengali, Russian, and Norwegian. Many have researched his works and obtained doctorate from various Universities. He has traveled widely arround the globe and delivered countless literary talks.
Literary and Social Activities
He is the founder of Vetri Tamizhar peravai with the objective of social uplift. Since 1995 he identifies and honours tamil Poets every year. Vairamuthu Educational Trust offers substantial donations annually to the downtrodden students. He has donated a Hospital Building to the people of his native village of Karattupatti as well as initiated a library in the name of the renowned Poet Kannadasan in his village Vadugapatti.
His book "Moondram Ulagappor" engraves the struggle of the farmers in Tamilnadu and a portion of the sale proceeds was donated to eleven families of Cauvery delta farmers who had committed suicide in view of drought. As a philanthropist he has extended generous contributions to support War victims and victims of Natural calamities and continues his philanthropic activities to support the needy.
References
Former Prime Minister of India, Atal Behari Vajpaye, admired his creations and adjudged him as 'Kavi Samrat' (King of Poetry). Former President of India, Abdul Kalam, referred to him as 'Kaapiya Kavignar' (Epic Poet). Former Chief Minister of Tamil Nadu, M. Karunanidhi, gave him the title 'Kaviperarasu' (Emperor of Poetry).